Posted by Joseph Calamita on 7/29/2020
1. How will busses be handled? (This information can also be found in our Health and Safety Plan)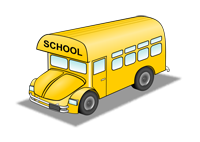 All vehicles used to transport students will be sanitized with an approved disinfectant prior to resuming transportation services.

All school transportation vehicles will be disinfected/cleaned as per CDC and/or state health guidelines after the morning and afternoon bus runs.

To maximize ventilation within a school vehicle, windows and roof hatches will remain open, weather permitting.

Students will be limited to 2 children per seat preferably with siblings

Additional bus runs will be added to allow for a 2 person per seat maximum

Masks must be work at all times on the bus as required by the Department of Health
2. What is the plan for students with IEPs and GIEPs?
An IEP is an Individualized Education Plan and a GIEP is a Gifted Individualized Education Plan. The key word in both is INDIVIDUALIZED so IEP and GIEP teams will be creating plans unique to student needs in a virtual or in-person setting. If you have specific questions regarding your own child's needs please reach out to our Pupil Services Department.
3. How will food allergies be managed if students are eating in classrooms?
If students need to eat in classrooms we will work with the school nurse to ensure that students with food allergies are kept safe. That may mean that a class eats in another location like a gym or cafeteria but regardless of the space student safety and well-being will be our number one priority.

4. If my student is participating in in-person learning but has to quarantine can they access the Exeter Virtual Academy during that time.?
5. Can my student still access free breakfast and lunch if we are learning virtually?
Yes. If you are already qualified for Free or Reduced lunch we will make arrangements for breakfast/lunch pick-ups. If you have not been qualified in the past but need access to free breakfast/lunch this year, please contact our food services department for assistance.
6. I see that many school districts have decided to close for the first marking period over the last 24-48 hours (Downingtown, Antietam, Allentown, Upper Dublin, Pottstown, Cheltenham, etc.) what does that mean for Exeter?
At the moment we have a plan for a full-reopening with a virtual option. However, we need to all be prepared that the Governor may close schools at any time. In addition, if as Superintendent, I become convinced that I cannot open schools safely due to conditions in our community and county, I will make the recommendation to the Board that we close our buildings temporarily but continue school through full-time virtual learning. If this should happen please know that we are well prepared to deliver excellent instruction in a virtual environment. We have well articulated plans and have used grant funding to purchase hardware and software to facilitate distance learning. (detailed plans for virtual learning will be provided at the Curriculum Committee Meeting on August 4th)
7. Will we be notified of positive cases?
We will follow the Department of Health notification procedures at all times.
8. How will you support those students who are transitioning between buildings?
Principals are working now to come up with transition activities that will support students and will provide building specific information in August.
9. Will we be able to see a classroom layout?
Yes. Before we ask parents to make an official choice about the virtual or in-person option (sometime in mid-August) we will provide pictures or videos of what the classrooms spaces at each building will look like.
10. When will we learn more about virtual learning?
We will be presenting our virtual frameworks at the August 4th, Curriculum Committee Meeting of the Board which you can watch live or recorded on YouTube. We will provide examples of the teacher and student day, share feedback from parent surveys, talk about new software and hardware, and preview our plans for professional development.